Portland Hydro Jetting Services
Keeping Your Drains Flowing Smoothly
If you have a residential or commercial plumbing problem, there is a good chance that you will need to have your drains cleaned. While there are a number of different ways to do so, hydro jetting by our team at Perfect Flush is one of the most effective ways to ensure that your drain is completely clear and that there are no clogs that are going to keep your drains from running smoothly.
---
Get in touch with Perfect Flush today at (888) 544-4145 to schedule hydro jetting in Portland from experienced plumbers.
---
How Hydro Jetting Works
When you have a clog in your drain, you need to have it removed. While you can attempt to use a chemical drain cleaner to do so, this is not always effective, and it can also be damaging to your pipes and drains. A more effective way to clean out your drains is to have the drain cleaned out using hydro jetting.
Hydro jetting is a process that uses a powerful stream of water to clean out a pipe completely. The water is pressurized, and it is shot down the drain into the pipes, where it is powerful enough to remove any clogs that are in the way. It is a great method for cleaning out your drains because it is powerful enough to get rid of almost any clog, and it is also a very effective way to ensure that you do not damage your pipes while you are cleaning them.
Get in Touch
Count on your Perfect Flush team to listen and care for your needs. We prioritize strong communication and set high standards for the quality of our work; and with integrity in mind on every job, you can be sure we always do what we say we will. Contact us today to find out why our team is the go-to team in Portland and the surrounding area!
Hydro Jetting Is the Best Way to Keep Your Drains Functioning
When you have clogs in your drains, it can have a negative impact on your plumbing system as a whole. Not only will your drains not drain as quickly as they should, but there is also the possibility that the clogs can back up and cause flooding in your home. Hydro jetting is a great way to ensure that your drains are completely clean, so you never have to worry about a clog causing problems.
---
To schedule Portland hydro jetting services, simply contact Perfect Flush today at (888) 544-4145 to learn more about our services.
---
Suggested Reading: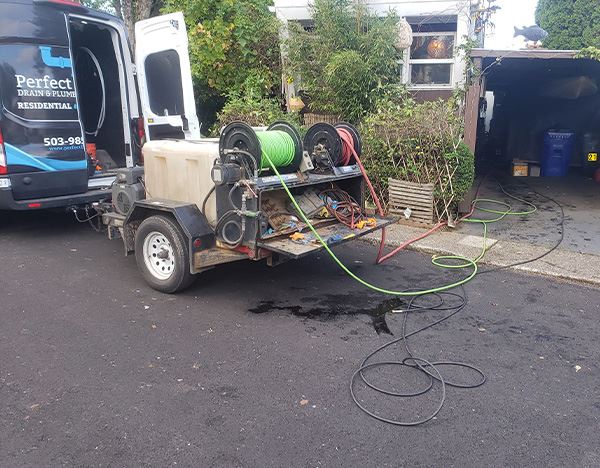 Hear From Our Happy Customers
Reviews & Testimonials
At Perfect Flush, your satisfaction is our priority! See for yourself what our customers have to say about working with us.
"Truly Great Service"

Very Professional & Knowledgeable, Respectful to the residence and area, and just very Cool!!

- Mark A.

"Quick, efficient and quality service."

I would recommend them above all other plumbers I have used in the past.

- Chaz M.

"Great work!"

This is one of the best places to use if you have a plumbing issue.

- Patty S.

"An impressive combination of S.W.A.T. team precision and Knights of Chivalry values"

Not only are they knowledgeable and helpful, but they brought the charm that was expected of knights

- Tonia T.

"Highly recommend this company"

I highly recommend this company, and certainly Kiley, to anyone with drain-clogging issues.

- Madelain W.

"True professionals"

I would definitely call these guys again in the future and I recommend you do the same

- Dan X.

"Very professional and easy to work with"

Thank you, Perfect Flush!

- Mina H.

"SUPER fast!"

This place was SUPER fast! On top of that, the man was very professional, straightforward, and HONEST.

- Curtis V.