HOA/Property Management Plumbing
HOA/Property Management Plumbing Services
We recognize the distinct challenges local homeowners' associations (HOAs) and property management companies encounter when tasked with maintaining the plumbing systems across numerous residential units. Our team of highly skilled technicians is committed to delivering customized, dependable, and affordable plumbing solutions designed to meet the unique needs of your managed properties. By doing so, we ensure the satisfaction of your residents and the seamless operation of your properties.
Experience the exceptional service and comprehensive plumbing solutions Perfect Flush offers for your HOA or property management company. Feel free to reach us to discuss your specific needs and discover how we can help you maintain the plumbing systems of your managed properties with the utmost efficiency.
Contact us at (888) 544-4145 to schedule an appointment or request a quote, and let our experts provide the tailored solutions you deserve.
Get in Touch
Count on your Perfect Flush team to listen and care for your needs. We prioritize strong communication and set high standards for the quality of our work; and with integrity in mind on every job, you can be sure we always do what we say we will. Contact us today to find out why our team is the go-to team in Portland and the surrounding area!
Expert Plumbing Services for HOAs & Property Managers
Our comprehensive range of services caters to the specific needs of HOAs and property management companies in Portland, including:
Preventive Maintenance & Repairs
Implementing a proactive approach to maintaining your plumbing systems can significantly reduce the likelihood of encountering costly and disruptive issues in the future. Our comprehensive preventive maintenance services are designed to identify potential problems early on and address them before they escalate. Once we have identified a potential issue, our repair services are designed to address it promptly, minimizing disruption to your residents and ensuring the smooth operation of your properties.
Our services include:
Checking for and Fixing Leaks: Our technicians will thoroughly inspect your plumbing system to identify any hidden leaks or potential weak points that could lead to water damage or increased utility bills. We will then repair any leaks in faucets or other fixtures, preventing water waste and potential damage to your properties.
Assessing Water Pressure: Proper water pressure is essential for the smooth functioning of your plumbing system. We'll evaluate the water pressure in your managed properties and make any necessary adjustments to ensure optimal performance and prevent issues such as pipe damage or fixture malfunctions.
Cleaning Drains: Regular drain cleaning helps prevent clogs and backups, which can cause significant disruptions and damage to your properties. Our team will expertly clean drains, removing debris and buildup to ensure the free flow of water and waste.
Inspecting and Repairing Water Heaters: Water heaters are crucial in providing comfort and convenience to your residents. Our technicians will thoroughly inspect water heaters for signs of wear, corrosion, or inefficiency and perform any necessary repairs or adjustments to ensure their optimal performance and longevity. We repair any issues to ensure your residents can access hot water when needed without compromising energy efficiency.
Replacing Broken Pipes: We recognize the importance of addressing damaged pipes swiftly to avoid further complications. Our team will replace broken or cracked pipes, restoring the integrity of your plumbing system, and preventing potential water damage.
Sewer Line Repairs: Issues with sewer lines can lead to unpleasant odors, slow drains, or even sewage backups. Our experts will thoroughly inspect and repair any sewer line problems, ensuring the proper flow of waste away from your properties.
Toilet Repairs: Clogged or overflowing toilets, and other related issues, can be frustrating and unsanitary for your residents. Our team will address these problems so your properties' drainage and waste systems function properly.
Take the Next Step with Perfect Flush
Don't let plumbing issues compromise the satisfaction of your residents or the smooth operation of your managed properties. Choose Perfect Flush for all your HOA and property management plumbing in Portland and experience the difference our exceptional service, skilled technicians, and comprehensive solutions can make.
Ready to get started? Contact us at (888) 544-4145 to discuss your specific requirements and let our experts provide the tailored solutions you deserve.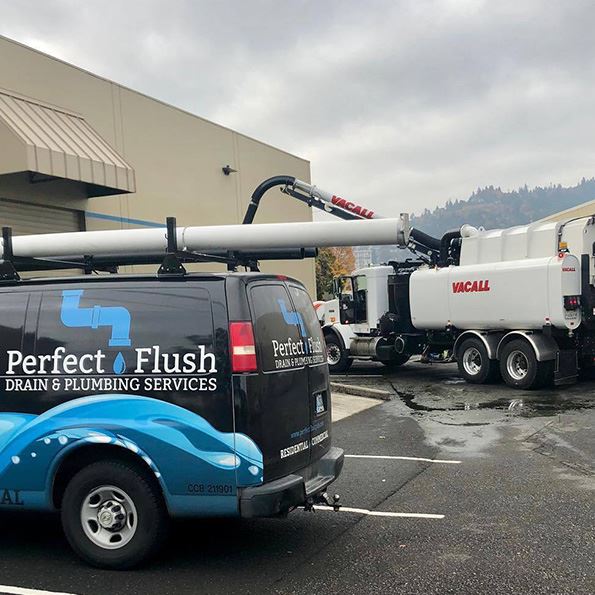 Hear From Our Happy Customers
Reviews & Testimonials
At Perfect Flush, your satisfaction is our priority! See for yourself what our customers have to say about working with us.
"Truly Great Service"

Very Professional & Knowledgeable, Respectful to the residence and area, and just very Cool!!

- Mark A.

"Quick, efficient and quality service."

I would recommend them above all other plumbers I have used in the past.

- Chaz M.

"Great work!"

This is one of the best places to use if you have a plumbing issue.

- Patty S.

"An impressive combination of S.W.A.T. team precision and Knights of Chivalry values"

Not only are they knowledgeable and helpful, but they brought the charm that was expected of knights

- Tonia T.

"Highly recommend this company"

I highly recommend this company, and certainly Kiley, to anyone with drain-clogging issues.

- Madelain W.

"True professionals"

I would definitely call these guys again in the future and I recommend you do the same

- Dan X.

"Very professional and easy to work with"

Thank you, Perfect Flush!

- Mina H.

"SUPER fast!"

This place was SUPER fast! On top of that, the man was very professional, straightforward, and HONEST.

- Curtis V.